First Steps
Scup Social is the leading social media monitoring, management and analytics tool that helps companies to better understand their marketplace, consumers and competitors, by generating business insights, and helps them build deep relationships with their stakeholders.
All of this is performed through monitoring.
Monitoring is a means of observing, analyzing and inspecting your brand. It lets you know what's being said about your brand in social media, through searches created for the media you choose.
CREATING A MONITORING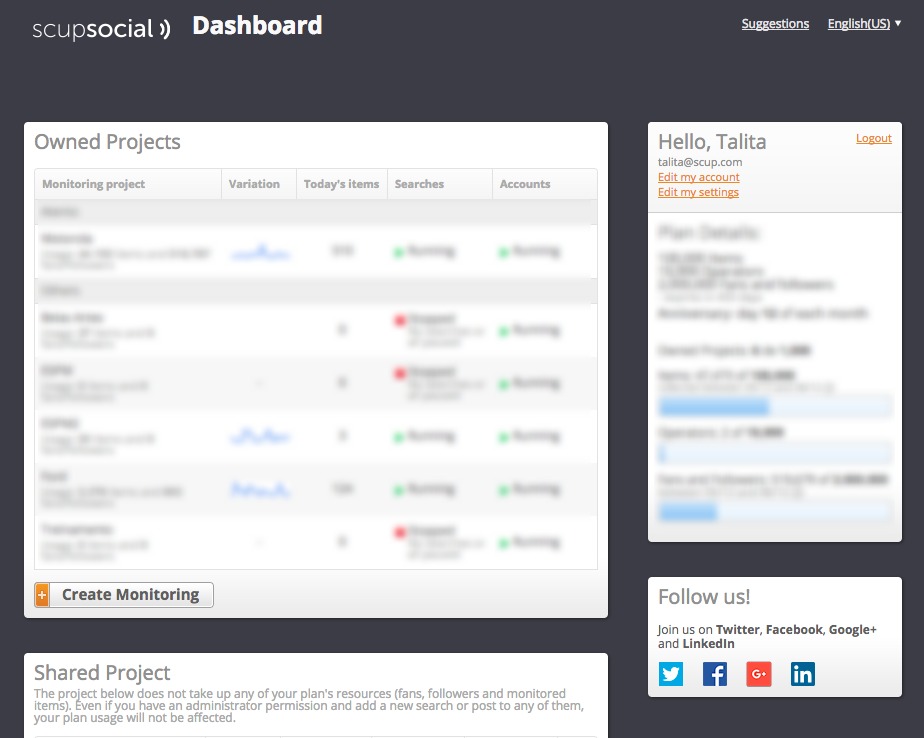 Once logged into the software, go to your panel in Scup Social and click on the option "create monitoring".
* This button is active only with master account access.
When starting a new project, the screen below will be shown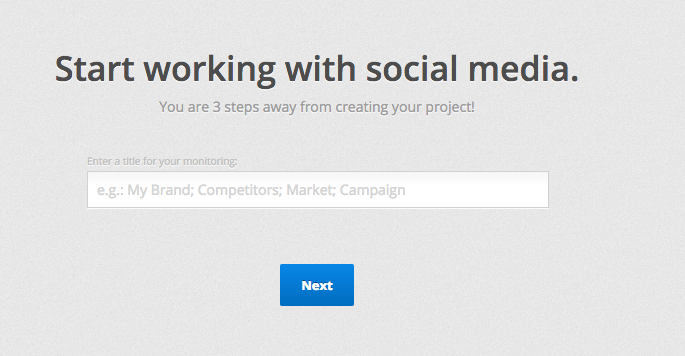 This space is intended for the insertion of the name of your monitoring project.
You can use the name of your brand, product, competitor, project, campaign, or anything that makes tracking it easy on your dashboard.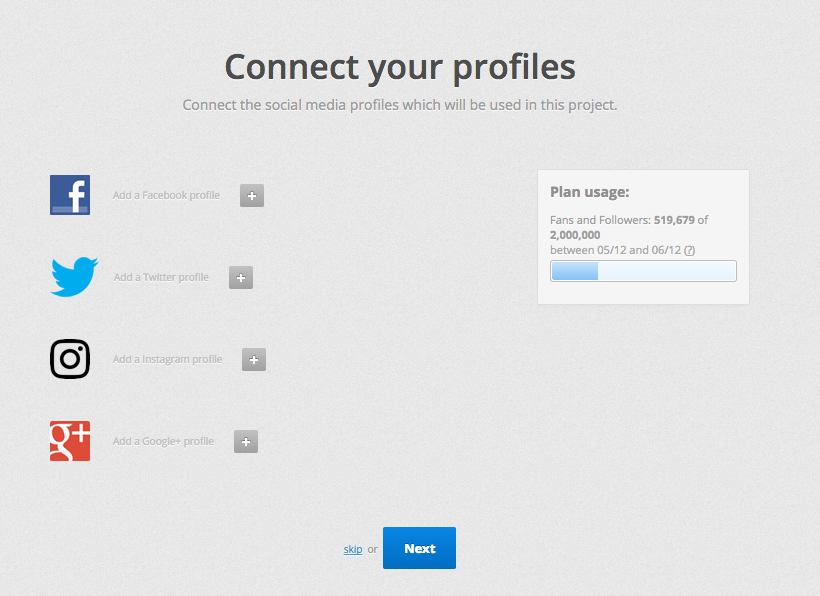 If you go to monitor your official channels, simply enter them here in this step, and the accounts and searches will be automatically created.
If this is not the purpose of the monitoring, you can click "skip".
Adding an account
To add an account click '+' and enter the account access data.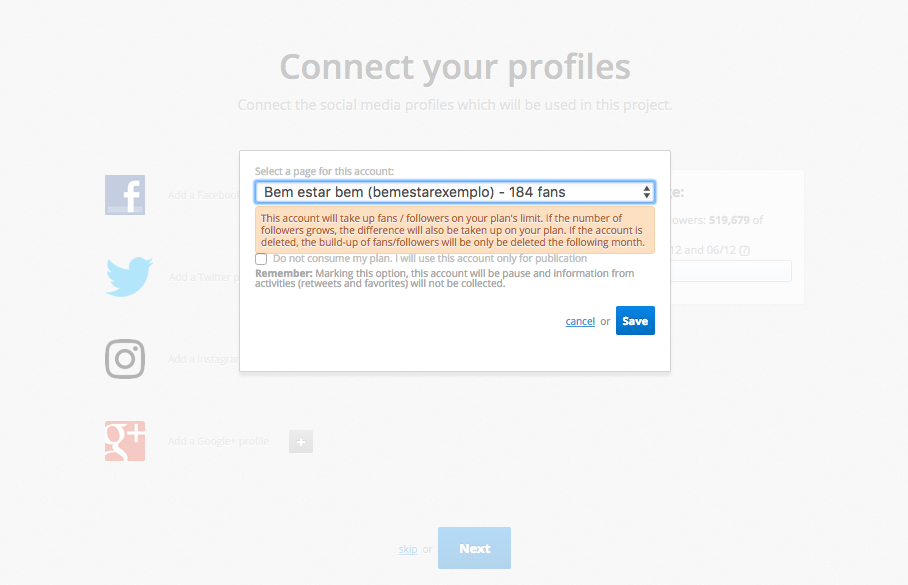 Given all the accesses, searches will be created in an authenticated way, that is, we'll also look for private information from your account, such as your Facebook inbox or your DM on Twitter.
By following the next step, you'll be able to create your searches.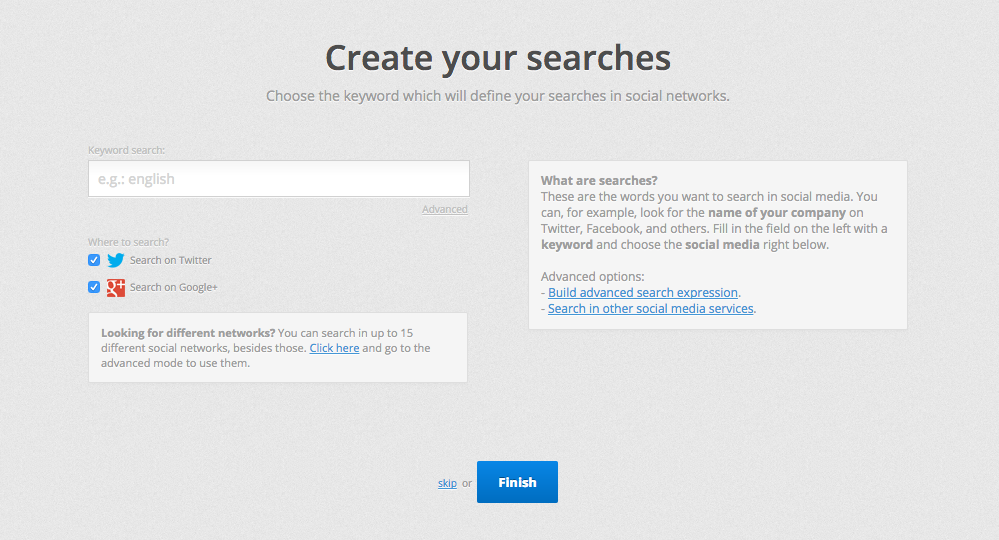 A Search is the mechanism that allows Scup Social to look through media to find the result you need.
To do this, you need to configure them very precisely.
Here in this material you can read the search logic in each media type, as well as gain access to advanced tips for a more accurate result.
After creating the searches, just click "finalize" and your monitoring will be created.
Once inside the monitoring, get to know the tabs and functions.

1) Mentions tab
Here you have the tab where every mention collected by your searches can be found.
In it, it's possible to apply filters to locate items and to manually process data, insert tags or sentiments, whilst also responding to items.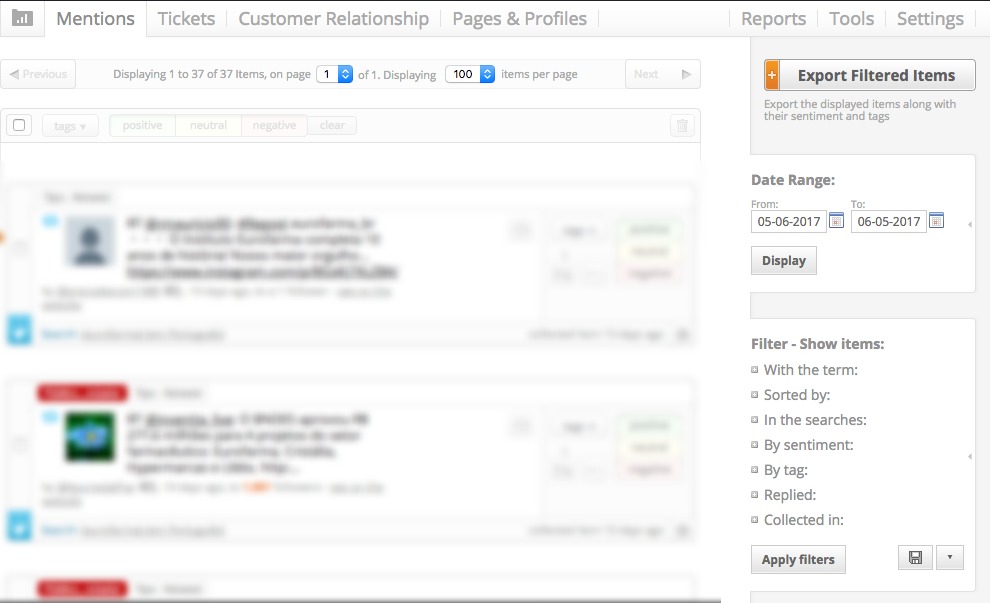 2) Tickets
The Tickets tab was created to be the client support space in social networks, it's your SAC team's job center.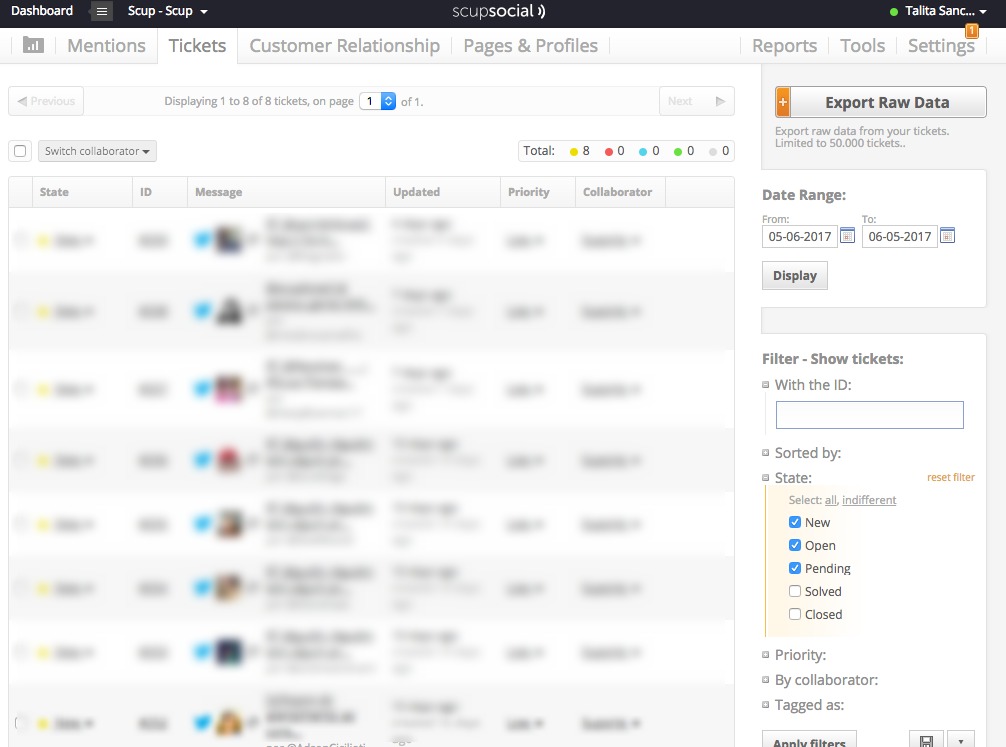 3) Costumer Relationship
In relationship, you can find out the users who comment the most on your brand. With this information you can follow these profiles more closely and devise strategies to interact with them.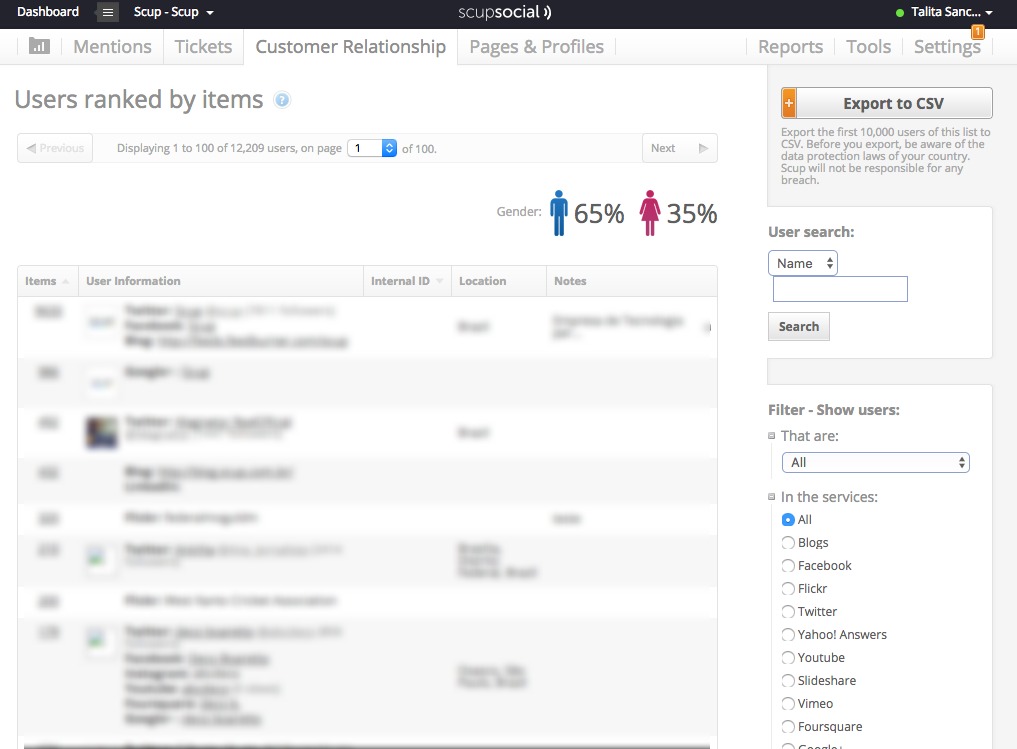 4) Pages & Profiles
In this tab you can publish content in social networks, and identify the number of activities (likes, shares and comments) per post.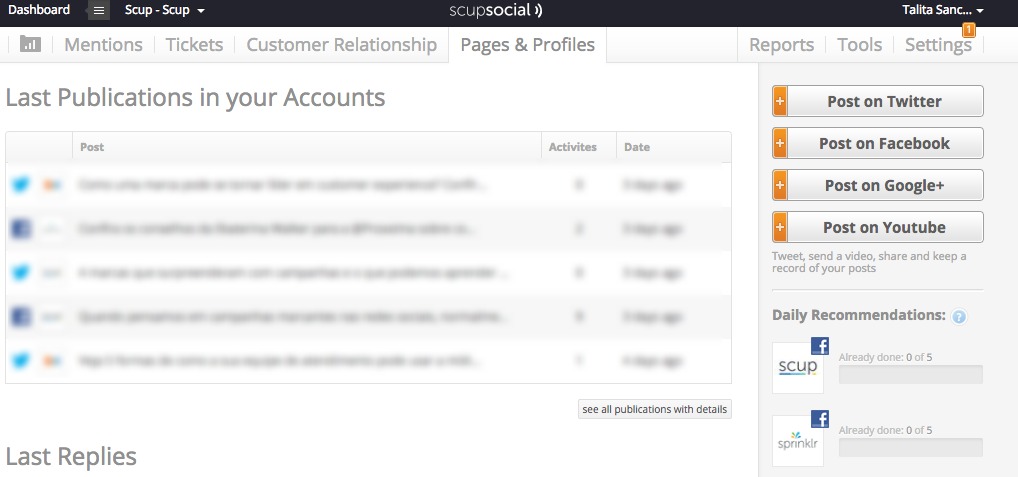 5) Reports
In this tab you can view reports with automatically generated graphs of everything that has been collected, and facilitate your monitoring data insights.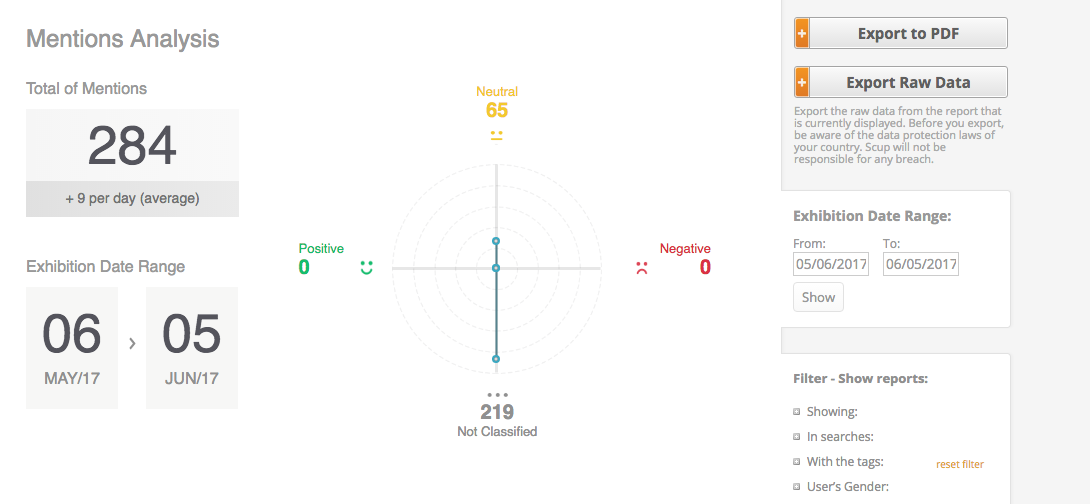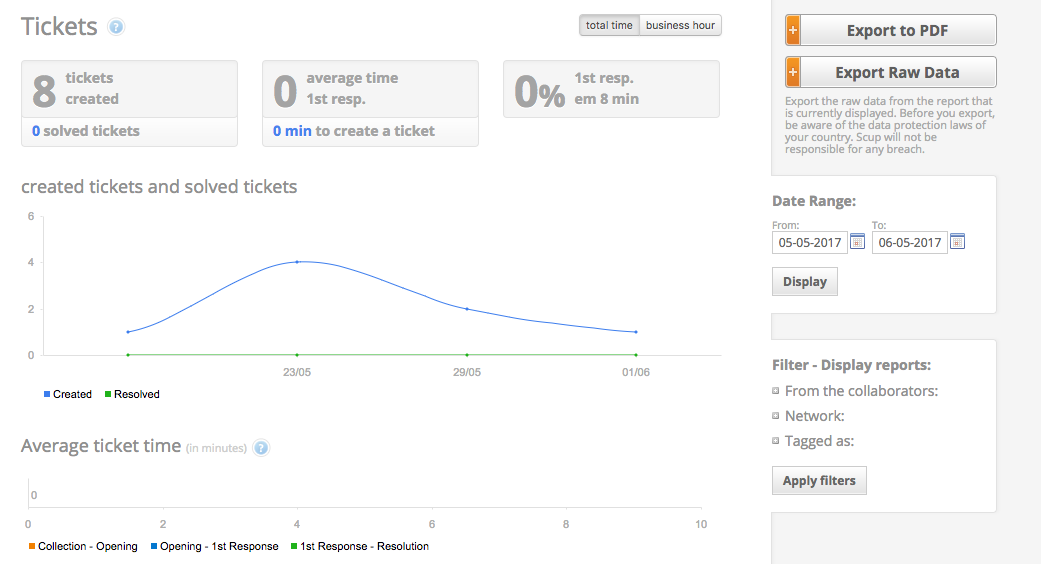 6) Tools
In the toolbar, you can find the URL shortener. Scup.it allows you to shorten URL's and shows the number of clicks on each published link. You can also check export history.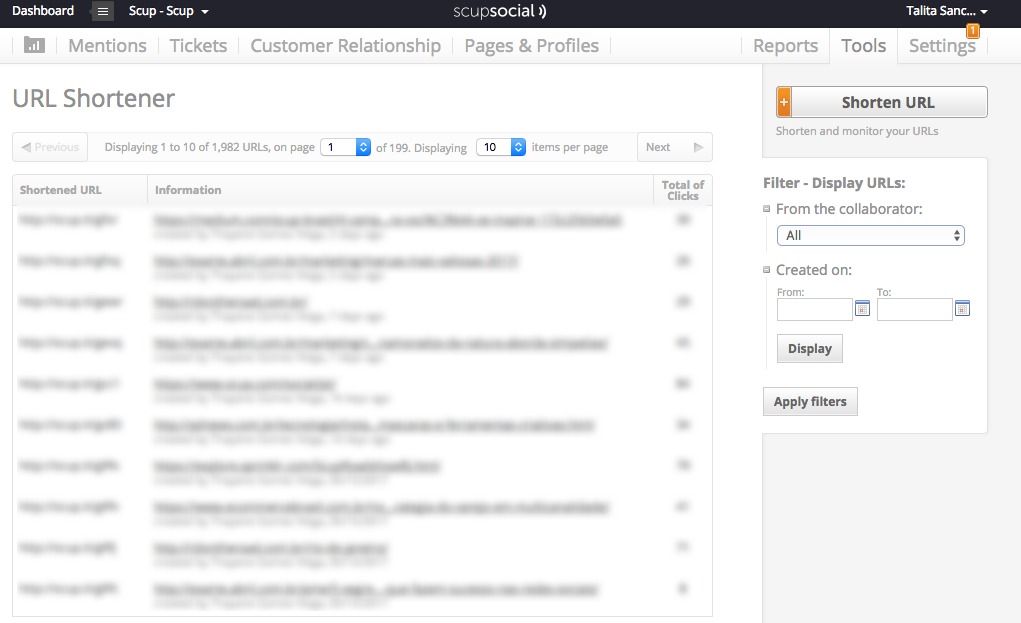 7) Seetings
In this tab you can configure all your monitorings.
In the sub menus, you can find the following options:
Monitoring: here you can configure monitorings, request periodic reports, activate mixed sentiments or restrict item collection

Searches: here you can manage searches, create new ones, remove or pause them.

Accounts: This is the account management tab.

Contributors: In this tab it's possible to manage monitoring contributors by choosing their permission level.

Tags: In this tab it's possible to manage tags. Create new, remove, edit and disable tags.

Rules: In this tab you can configure rules to automate actions within the monitorings.

SAC 2.0: This tab is responsible for timetable settings, SLA times, ticket closings and standardized answers.

Automatic Classification: Activation of the automatic classification service.

Add-ons: Enable or disable add-ons.
It's worth reading a little about the rules, and getting to know the reports and other Scup Social tabs.
If you have any questions, please contact us at support@scup.com
---
How Did We Do?
---